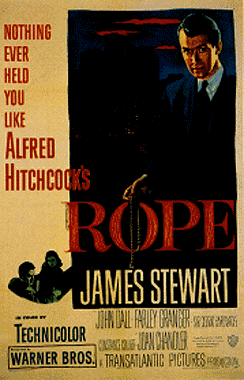 Popular French film magazine
Studio
(pronounced "Stu-djo", of course) has listed the top 20 of gay films that are (at least according to film writer Michel Rebichon) the most indicative of the changing customs and habits of the times and accurately reflect social mores. Here is their full rundown, from oldest to most recent:
*Rope - Alfred Hitchcock, 1948, USA
*Satyricon - Federico Fellini, 1969, Italy
*Morte a Venezia (Death in Venice), Luchino Visconti, 1971, Italy
*La meilleure façon de marcher (The Best Way to Walk) - Claude Miller, 1976, France
*Sebastiane - Derek Jarman and Paul Humfress, 1976, UK
*Querelle - Rainer Werner Fassbinder, 1982, Germany
*L'homme blessé (The Wounded Man) - Patrice Chéreau, 1983, France
*La ley del deseo (The Law of Desire) - Pedro Almodóvar, 1986, Spain
*Maurice - James Ivory, 1987, UK
*Les nuits fauves (Savage Nights) - Cyril Coliard, 1992, France
*Philadelphia - Jonathan Demme, 1993, USA
*The Adventures of Priscilla, Queen of the Desert - Stephan Elliot, 1994, Australia
*Fresa y chocolate (Strawberries and Chocolate) - Tomás Gutiérrez Alea, 1994, Cuba
*Les roseaux sauvages (Wild Reeds) - André Téchiné, 1994, France
*The Celluloid Closet - Rob Epstein and Jeffrey Friedman, 1995, USA
*Beautiful Thing - Hettie MacDonald, 1996, UK
*Bound - Andy and Larry Wachowski, 1996, USA
*Bent - Sean Mathias, 1997, UK
*Far From Heaven - Todd Haynes, 2002, USA
*Brokeback Mountain - Ang Lee, 2005, USA
It is interesting to note that the list starts with a USA-made Hitchcock film that is all but open about its subject and that the US as a producing country then virtually disappears from the list until 1993, and then delivers the bulk of the new titles. Another interesting trend is that many of the films in the top 20 are not portraying contemporary society but societies in the past (including Satyricon, Sebastiane, Maurice, Wild Reeds, Bent, Far From Heaven and Brokeback Mountain).
Glaring omissions -- in my humble opinion -- include Richard Oswald's Anders als die Anderen (Different From The Others) from 1919 (!), Carl Theodor Dreyer's silent 1924 classic Mikaël, Rossellini's Germania Anno Zero from 1948, 1961's Victim with Dirk Bogarde, anything by Pasolini (probably Salò o le 120 giornate di Sodoma) and perhaps something like Stephen Daldry's 2002 film The Hours and Kimberly Peirce's Boys Don't Cry from 1999. And no mention of Gus Van Sant?
Films on the list that, again in my humble opinion, seem minor when compared to the others: Bound (which seems to have been included simply to demonstrate that the writer has not forgotten lesbianism as well, I would have chosen The Hours and/or Boys Don't Cry) and the Sirk-inspired hommage Far From Heaven, in which Dennis Quaid's character is homosexual only as a plot convience that obstacles Julianne Moore's character and her desire for a picture-perfect marriage. A much more interesting choice would have been Sirk's own Written on the Wind, in which Rock Hudson utters the famous line "I have trouble enough finding oil" in reply to the question why he has not married yet.
What do you think? Leave your comment!